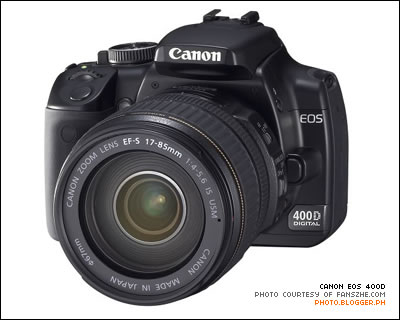 News just broke out at the fredmiranda.com forums pointing to a thread in a Chinese photography forum revealing what will likely be tomorrow's announcement of Canon's newest products. Of significant importance is the supposed replacement for the entry–level 350D, the Canon EOS 400D. This new body will also be known as the Canon EOS Digital Rebel XTI for selected markets like North America.
This new Canon body boasts of several improvements over the recent Digital Rebel. Among them, most notable are:
A brand–new 10.1 megapixel CMOS sensor, producing a maximum image dimension of 3,888 x 2,592 pixels.
Dust Removal System. A first for Canon SLR bodies, this aims to take away some of the supposed advantages of other entry–level DSLRs like the Sony Alpha A100.
9-point wide area autofocus system inherited from the Canon EOS 30D. Yes, this body shares the same high performance AF system from its more expensive sibling, one that is even better than the 20D.
2.5 inch wide angle of view LCD which is now almost standard among cameras released this year, though this one is said to be brighter by as much as 40% over that of the #0D and the 5D.
Just like recent Canon bodies, the EOS 400D will have "Picture Styles," adding more creative options that allows for mimicking various "photographic looks" that we're made famous during the days of film SLRs.
Many shooters from the forum were speculating that this camera would eat into the 30D sales, though from a consumer's point of view, that could only be a very good thing. If this camera retails below the 1000 USD range, and it should, Canon probably has another winner in their hands. Looking at the success of the 350D and Canon's aggressive price reductions the past weeks, the EOS 400D should be fairly affordable and appears destined to be another bestseller.