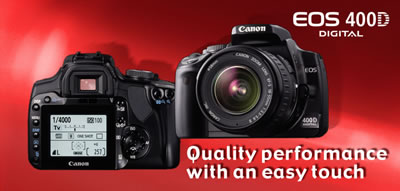 As Canon's update to its entry level digital SLR slowly makes its way to the worldwide market, we now see a surge of opinions and reviews on the new camera. The Canon EOS 400D/Digital Rebel XTi is still very much like the previous models, though packs a few surprises and still keeps photography enthusiasts very excited.
Just as we have posted links to sample photos from this camera, the camera is now officially here in the Philippines and sent for review to media people as well as prominent Canon users. One lucky guy is pinoyphotography.org's Regie Fernando who has just posted sample photos and his initial insights on the camera in this thread and on his weblog.
The sample photos appear to be very inspiring, though it is worth noting that he used the Canon 17-40 f/4L USM and not the included kit lens. We (yes, including me!) are eagerly waiting for his in–depth review to know if the 400D is really worth the money, as I might just get one as soon as prices stabilize.