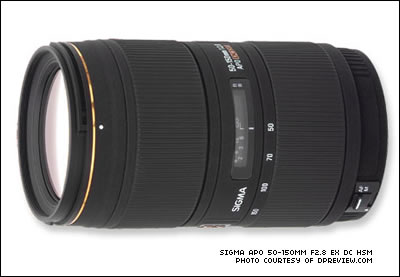 Sigma has just announced a new zoom lens for APS-C DSLRs like the Canon EOS 30D and the Nikon D200, the Sigma APO 50-150mm F2.8 EX DC HSM. This tele zoom mimics the range of traditional 70-200 zooms that are widely used in full–frame digital and film SLRs. In addition, it has a maximum aperture of f/2.8 throughout its entire zoom range, making it the APS-C counterpart of the Sigma 70-200 f/2.8 as well as the famous offerings from Canon, boasting the same max aperture.
This lens produces an effective field of view of 75 to 225 mm on the recently announced Nikon D80, and 80 to 240 mm on the Canon 1.6x crop bodies. This lens is relatively light for its zoom range and aperture, perhaps a good selling point for potential buyers. It is also equipped with Sigma's HSM (Hyper Sonic Motor) which is their answer to Canon's USM (Ultrasonic Motor) technology, providing fast and silent AF performance. HSM also allows for full–time manual focus override, negating the need for toggling the manual focus switch in cases where you need manual focus.
The creative possibities with this lens is abundant since it is compatible with Sigma's 1.4x EX DG APO and 2x EX DG APO Tele Converters, further extending the zoom range to the photographer's advantage. An important note: the addition of a 1.4x teleconverter makes it a 70-210 f/4 zoom, very much like Canon's popular 70-200 f/4L. Technical details are available from DPReview.com's coverage, with some insights from photo.net users.
If the performance of this lens equals or surpasses that of the Sigma 17-70mm f/2.8-4.5 DC Macro, and it should considering the EX designation, this lens will be another best seller for Sigma being a welcome addition to the advanced amateur's photography arsenal. I just hope that this lens slots in nicely in the 400 to 600 USD range, since any higher than that and the Canon 70-200 f/4L will appear a better value, for EOS shooters at least.