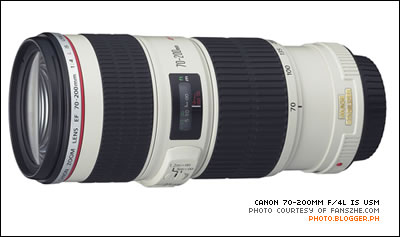 Along with the recent news leak revealing the Canon EOS 400D, there will be a new lens to be announced with the new body, the Canon 70-200mm f/4L IS USM.
The original 70-200mm f/4L USM is one of Canon's best–selling lenses, it being one the most affordable while delivering excellent performance for a variety of uses. A good percentage of the Canon shooting population have long dreamt of an image–stabilized version of the lens which makes it a worthy alternative to the 70–200mm f/2.8L USM without the weight burden. Now, the dream walkaround telephoto zoom is here for real. Since this is based on the non-IS original, sharpness and details should be just as good.
The addition of IS will allow for hand–holding at slow shutter speeds, which makes me think that this lens is aimed more towards the amateurs toting 350D and soon 400D bodies. A good percentage of people shooting with these bodies are typical weekend hobbyists, the type that do not prefer to carry bags of gear and almost always do not have a tripod while shooting.
Right now, no price details are available but this lens expected around the 900 USD range. Any higher and it eats into the 70-200mm f/2.8L (non–IS) territory, cannibalizing sales of that great lens. Significantly lower will also put it in direct competition with the original 70-200 f/4L (non–IS), unless they decide to discontinue the old f4L and give us a cheap IS–powered telephoto zoom! At any rate, this will still be a very good lens.