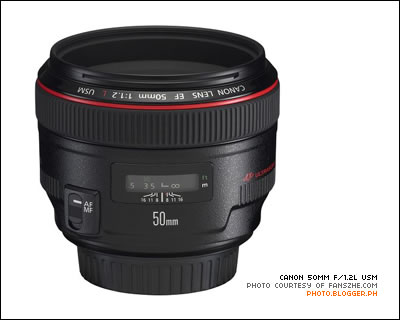 On the list of Canon products set for announcement, the new Canon 50mm f/1.2L USM is one special lens. This will be the first 50mm in years to be designated an "L" after the discontinued 50mm f/1.0L, Canon's mark of excellence for its lenses. The f/1.4 and f/1.8 version of the 50mm has long been available but neither has been perfect, so the clamor for a 50mm L never died.
This new lens will have a ring–type USM providing accurate and silent autofocus performance, and at the same time allowing for full–time manual focus override, negating the need for toggling an AF/MF switch when the need for manual focus suddenly arises.
One possible drawback for this lens could be price. If you recall the recently new 85mm f/1.2L USM MkII, what used to be a 1500 USD lens crossed the 2000 USD barrier after being revised. We could see the 50L above the 1000 USD point, making it not too affordable for everyone. If they sell it at slightly above twice the price of the 50mm f/1.4, it will still be in the 750-900 USD range — fairly affordable. They should sell it at that price and see it fly like hotcakes, like the 17-40 f/4L which happens to be in the same price range.