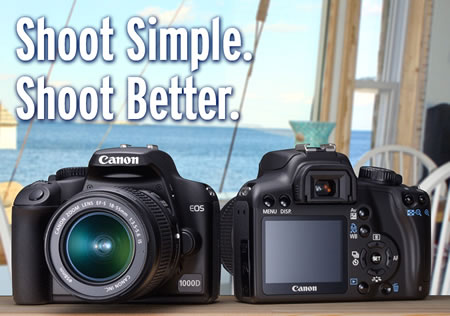 This is rather late news since every other photography site actually tried to scoop everyone else, but it's still worth mentioning that Canon has just announced their entry level Canon EOS–1000D which will also be known as the Digital Rebel XS. Quite obviously, this camera is a response to Nikon's three–headed entry–level team composed of the D40, the D40X, and the D60.
Anyone who's familiar with Canon's digital SLR lineup would surely notice that the EOS–1000D is a cross–breed of the older 400D and the current 450D. It carries a 10–megapixel CMOS sensor, 3 FPS continuous shooting, and a 2.5–inch LCD, features that were upgraded when Canon released the 450D. The body and button layout are inherited from the 450D, including the image–stabilized kit lens, but some features are clearly limited to make it a lower camera compared to the 450D. A blatant non–existent feature is the sensor found just under the optical viewfinder of the 400D and the 450D; this means that the rear LCD will most likely behave similar to Nikon's models — you have to manually turn them off when you take them to eye level.
The introduction of this model is an interesting twist in Canon's lineup, raising the doubts on the market value of the 450D since it is just marginally better than the 1000D. For less money, you get a camera of almost the same usability and value. If I were looking for a backup camera on a limited budget, I won't hesitate picking the 1000D over the 450D. For first–time digital SLR owners though, it is too close to call and would largely depend on your budget and deals offered. Either way, you still get a perfectly usable camera. I think Canon just introduced another great seller in the EOS–1000D, I just hope it isn't at the expense of the 450D.