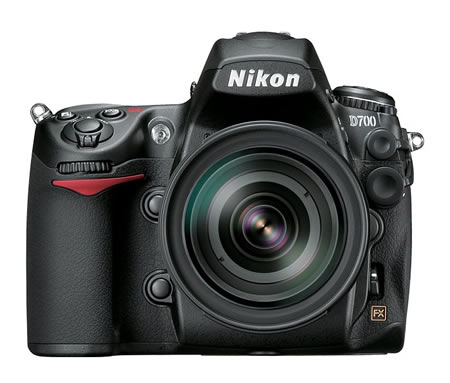 The recent release of the full–frame Nikon D700 has got the DSLR market talking again. Just like how proshooters responded when Nikon surprised us with their top–of–the–line D3, the D700 appears to raise even more interest and should sell more once it starts shipping.
The Nikon D700 is positioned to sell for 3000 USD, right in the range of the aging Canon EOS–5D. Though the camera is not a direct competitor to Canon's offerings, it sends a strong message to the market that Nikon is back in the game indeed. With two full–frame FX–sensor cameras in just a year, it makes Canon and other digital SLR manufacturers appear lagging behind in terms of product development.
Here are the main features of the Nikon D700:
12.1 megapixel full-frame sensor (8.45µm pixel pitch)
Image Sensor Cleaning (vibration)
ISO 200 – 6400 (with boost up to ISO 25600 and down to ISO 100)
Also supports DX lenses, viewfinder automatically masks (5.1 megapixels with DX lens)
14-bit A/D conversion, 12 channel readout
Same ultra-fast startup and shutter lag as D3
Nikon EXPEED image processor (Capture NX processing and NR algorithms, lower power)
New Kevlar / carbon fibre composite shutter with 150,000 exposure durability

*

Multi-CAM3500FX Auto Focus sensor (51-point, 15 cross-type, more vertical coverage)
Auto-focus tracking by color (using information from 1005-pixel AE sensor)
95% coverage, 0.72x magnification viewfinder
Auto-focus calibration (fine-tuning), fixed body or up to 20 separate lens settings
Scene Recognition System (uses AE sensor, AF sensor)
Picture Control image parameter presets
5 frames per second continuous with auto-focus tracking
Optional MB-D10 Battery Pack (same as D300), increases burst rate to 8 fps
UDMA compatible single CF card slot
3.0″ 922,000 pixel LCD monitor
Live View with either phase detect (mirror up/down) or contrast detect Auto Focus
Virtual horizon indicates if camera is level (like an aircraft cockpit display)
HDMI HD video output
'Active D-Lighting' (adjusts metering as well as applying D-Lighting curve)
Detailed 'Control Panel' type display on LCD monitor, changes color in darkness
Magnesium alloy body with connections and buttons sealed against moisture
Improved Info display on main screen
With the look of things, I think we have a market–changing camera in the Nikon D700. This should get Canon evaluating their product development plans as the market clamors for more value in their cameras. I truly believe the Nikon D700 will be one of the most used cameras in recent times.
Here's more coverage on the Nikon D700 from Michael Reichmann and Rob Galbraith.