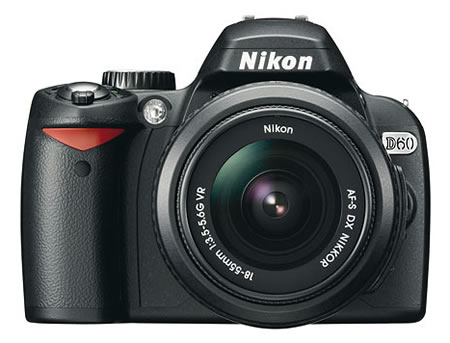 Seriously big new: Nikon announces the new Nikon D60.
Much to the disappointment of Canon fans thinking the Canon EOS–450D/XSi will reclaim the entry–level dSLR market, Nikon continues to milk profits from its best–selling D40 by morphing it into another better product just like the D40x.
From the outside, the Nikon D60 is the same as the D40 but with some key changes, like:
10.2–megapixel CCD sensor (up from 6 on the D40)
Active D-lighting (same as that on the Nikon D300)
EXPEED, Nikon's digital image processing technology, a response to Canon's DIGIC
3x zoom AF-S DX NIKKOR 18-55mm f/3.5-5.6G VR lens
Stop-Motion Movie mode, allowing users to produce stop–motion movies that have been fairly popular these days
Image Sensor Cleaning function + Airflow Control System, a 2–step approach to keeping dust and dirt away from your sensor
The Nikon D60 adds a lot of consumer–aimed features, it being marketed to the beginner types just like the D40. Instead of using a 3–inch LCD, Nikon has decided to stick with the same 2.5–inch display and focus on adding relevant features instead. Compared to the new offerings from Pentax and Samsung, the D60 holds its own and should be a strong contender in this market segment.
Buying a digital SLR? The Nikon D60 should be just as good an option as those recently announced and soon available. There's no reason not to get one soon!