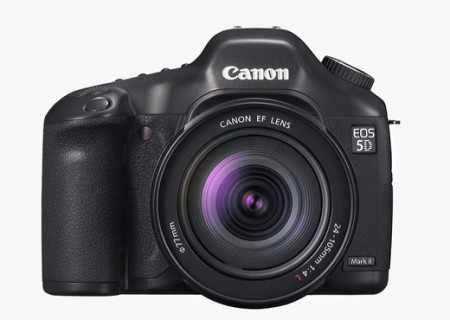 Speculations are alive about the reported replacement for the overdue Canon EOS–5D, expectedly marked as the Canon EOS–5D Mark II. Not necessarily revolutionary, the leaked specs still suggest a modest upgrade from the first generation full–frame digital SLR. As said in the DP Review forums:
The new 5D II will not be released at Photokina, but instead will be a surprise announcement on April 22, according to a source I am unwilling to disclose. The specs of the new camera are as follows (final name unavailable):

15.3 MP full frame CMOS sensor (vastly improved light-gathering capacity per pixel: improved micro lenses; miniaturized micro circuitry; enhanced signal/noise ratio)
Weather sealing same as 1Ds Mark III
Dual Digic III with all-new "CXR" NR system reported to best 3rd party NR software. Available as a C.F with 4 levels of customizable parameters.
14 bit A/D conversion
ISO 12800 (C.F. up to 25600)
Reported 1 2/3 stop sensitivity improvement
All-new 29-point TTL CMOS sensor with 12 cross-type for F/2.8 or faster lens (35% faster than 40D)
Micro lens fine adjustment for up to 14 lenses
300,000 exposure shutter durability
6.0 / 3.0 fps
3.0″ LCD, 922,000 pixels
EOS Integrated Cleaning System
Live View (improved from 450D; latest generation)
6/3 fps continuous shooting for up to 68 frames
MSRP $3499, available June 2
With this long list of realistic enough details, it seems the leaked info may prove to be true. What I'm not too happy about though is the ~$3500 USD price tag, putting it much higher than the first 5D. Quite unusual since Canon's digital SLR line has a history of decreasing prices for newer and better models. $2500 USD would've been more right and puts it in a reasonale range compared to offerings from other DSLR makers.
But wait, is this really the Canon EOS–5D Mark II?