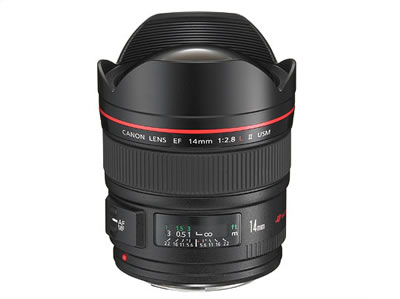 The Canon EF 14mm f/2.8L II USM is a revision of an older model, likely made available to take advantage of the 22 megapixel sensor on the just announced Canon EOS-1Ds Mark III. The product page at Canon USA's site has these details:
Ultra-wide angle lenses have always been in demand by architectural, corporate, and other top pro photographers. This new lens features completely redesigned optics including 2 high-precision Aspherical elements and two totally new UD-glass elements. The result is superior image quality: better contrast and sharpness at the outer edges, and a reduction in chromatic aberrations that can sometimes be seen with high-resolution digital SLRs. Its diagonal angle of view is an impressive 114°-anything larger would be a Fisheye lens. It has a built-in lens hood, and has been dust- and moisture- proofed. The lens uses a rear focusing system, high-speed CPU, and a powerful ring-type USM with revised electronics for faster, more responsive AF. This lens continues the proud tradition of superior clarity optics found in L-series Canon lenses.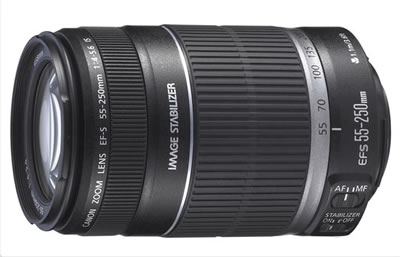 A unique addition to Canon's lens lineup is the Canon EF-S 55-250mm f/4-5.6 IS, almost an all–around zoom for APS–C bodies like the Nikon 18-200 VR and Sigma 18-200 OS. DPReview's coverage states:
Compact and lightweight, the EF-S 55-250mm f/4-5.6 IS offers the longest zoom range in the EF-S series to date. The 88-400mm equivalent focal length opens up new framing possibilities for owners of EF-S mount cameras shooting wildlife, sports and travel photography. Optical quality is assured through a UD element, which minimises chromatic aberrations that could otherwise cause reduced contrast and colour fringing.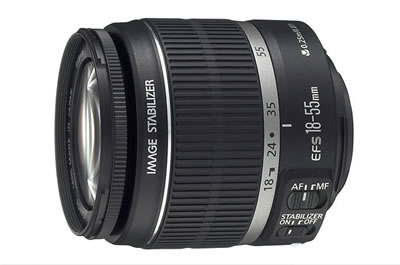 The Canon EF-S 18-55mm f/3.5-5.6 IS is the same lens as that offered as the standard kit lens for the 300D, 350D, and the 400D, but with the addition of an image stabilization system.
In response to demands of photographers, this standard zoom lens is designed with Canon's Optical Image Stabilizer technology while retaining the compactness and lightness of previous models. Its stabilization allows sharp hand-held shots at shutter speeds up to four stops slower than otherwise possible. It consists of 11 elements in 9 groups and uses an Aspherical lens element to correct aberration for excellent image quality throughout the zoom range and a circular aperture for exquisite rendering of out-of-focus backgrounds. Without a lot of size, weight or cost, this lens expands picture-taking possibilities any time slow shutter speeds are needed.