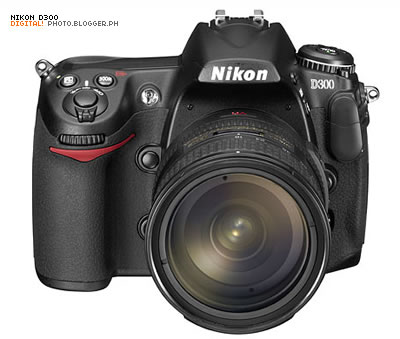 Nikon UK has just announced the newest addition to its family of digital SLRs, the Nikon D300. Surprisingly, the news came just right after Canon announced the EOS-40D and the EOS-1Ds Mark III, perhaps its own way of "stealing the limelight" considering the technical advantages it has over Canon's offerings.
The simultaneous announcements from both camera makers surprisingly puts Nikon at an advantage, its model now capable of going head–to–head in the features department. Here are the notables for the Nikon D300, as compared to the 40D:
12.3 megapixel CMOS sensor, much higher than the 40D's 10.1 MP.
6 frames per second continuous shooting, almost as good as the 40D's 6.5 fps, but can go up to 8 fps with the optional Multi Power Battery Pack. A little strange though that it can achieve its maximum burst rate with added power only.
ISO 200–3200 sensitivity range, with ISO 100 and 6400 as expanded options. Better than ISO 100-3200 on the 40D.
51–point autofocus system shames the new 9–point all–cross–type on the 40D, though we'd have to test this in the real world for any advantages.
150,000–cycle shutter durability is 1.5 times better than the 40D, bested only by top–level models.
Considering how much Nikon has evolved technologically with the D300, it wouldn't be too surprising if it significantly dominates the DSLR field in the next few months, as more are now upgrading to digital SLRs and some are switching from other mounts/systems. The Nikon D300 has got thinking of switching, if only I could afford it. How about you?