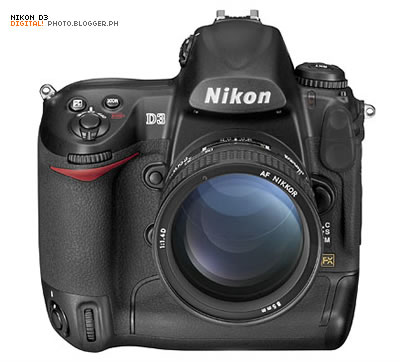 If the Canon EOS-1Ds Mark III, Canon EOS-40D, or the Nikon D300 didn't get you all excited, the Nikon D3 should. Being the first ever full–frame digital SLR from Nikon, the Nikon D3 stands proud with features than can easily equal or beat its rivals now, even if those are already in their third generation.
The Nikon D3 uses a full–frame CMOS sensor designated as the "FX Format," as opposed to the DX format used in their 1.5x crop cameras like the D40 and and the D200. Here's a breakdown of this model, as mentioned in their product page:
12.2 megapixel FX CMOS sensor with high signal-to-noise ratio, wide dynamic range and 12-channel readout.
ISO 200 – 6400: extendable up to 25600 (equivalent) and down to ISO 100 (equivalent).
9fps consecutive shooting (11fps in DX Crop mode)
EXPEED image processing engine with 14-bit A/D conversion and 16-bit image processing for superb tonal gradation.
Advanced Scene Recognition System combines the camera's metering and AF sensors for precise exposures and sharply defined images.
Multi-CAM3500FX 51-point AF system. Individually selectable or configurable in 9-point, 21-point and 51-point coverage settings.
Picture Controls streamline in-camera image processing by enabling customization of image parameters before capture and offer complete control over sharpening, contrast, brightness, hue and saturation in various color modes.
920,000 dot 3-inch VGA LCD monitor with wide, 170-degree viewing angle.
Live View with Autofocus enables composition of images using the LCD monitor. Two modes are supported: Handheld or Tripod.
Two Crop Modes: DX format and 5:4 ratio. The DX crop mode can be automatically enabled when a DX lens is attached.
Quick response: approx. 37 ms shutter-lag and 55 ms viewfinder black-out.
Highly accurate, durable Kevlar/carbon fiber-composite shutter unit: Standard rating of 300, 000 cycles, with a maximum shutter speed of 1/8,000 sec and flash synchronization at up to 1/250 sec.
Active D-Lighting enables superior high-contrast images by automatically applying tone compensation at the moment of capture.
Dual CF card slots: configurable for parallel (simultaneous) or serial (consecutive) recording.
HDMI video output interface enables connection to high-definition video systems.
Intuitive ergonomics with optimized button placement for fast and comfortable handling.
Durable Magnesium alloy body built to withstand the rigors of the harshest of environments.
Wireless LAN and Ethernet support via optional Wireless Transmitter WT-4.
Considering most of the features on the Nikon D3, especially the full–frame sensor capable of 9 frames per second continuous shooting, with an ISO range up to 6400 and expandable to 25600, it seems Nikon has clear winner compared to the Canon's top end EOS-1Ds Mark III. This is the camera that Nikon digital shooters haven't been expecting this soon — this is what full–frame Canon shooters always wanted their next camera to be. And Nikon produced it.
At a price 5,000 dollars, the Nikon D3 is inexpensive when compared to the Canon EOS-1Ds Mark III. If all feature advantages or disadvantages were to be ignored, the Nikon still comes out as the better camera at a better value. I'm sure Canon engineers are now busy trying to outdo Nikon. Times are good, cameras are getting better at lower prices.