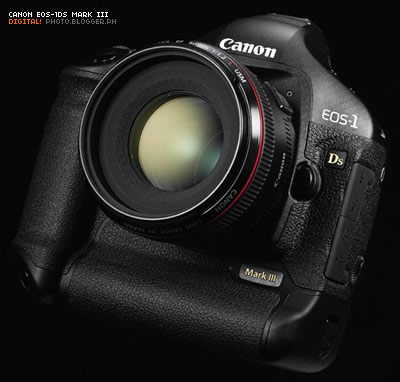 Canon wouldn't suffice with just one DSLR body and several point–and-shoots, they made sure they grab the big news with the release of the update to their flagship model, now the Canon EOS-1Ds Mark III. It seemed that the EOS-40D and the recently available EOS-1D Mark III would've been enough to lead against its competitors, but with a 21-megapixel full–frame sensor, now who can closely threaten them technology–wise?
The new EOS-1Ds has an unrivaled 21–megapixel CMOS sensor and can shoot at five frames per second, for up to 56 JPEG or 23 RAW images. Also improved in this model is the viewfinder, now brighter and with higher magnification compared to the EOS-1Ds Mark II. It also inherits the Live View functionionality from the Canon EOS-1D Mark III, along with the 3–inch LCD.
With these new features and improvements, will the Mark III be good enough for users to upgrade to this new model, especially considering the 8,000 dollar retail price?