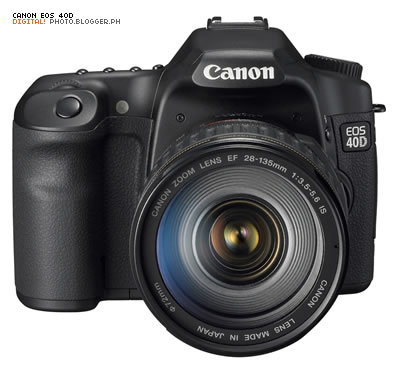 It's DSLR time once again this year as it's raining new models from major players Canon and Nikon, each one trying to outdo its counterpart from the other camp.
The Canon EOS-40D is the long–awaited successor to the 30D, which used to be one of the better bodies in the market until compared to Nikon's D200 and D80. The 40D though packs a lot of punch that should put offerings from other camps in the backseat.
Unlike the previous years, it took little time from leak to official release, Canon beating other DSLR makers to the punch by announcing their new models ahead of everyone.
The Canon EOS-40D is exceptional in its feature set, now capable of 6.5 frames per second continuous shooting at its 10–megapixel resolution. At this rate, it can take 75 JPG or 17 RAW images before the buffer slows down. A new AF system is also introduced, with 9 cross–type sensors plus another one mounted diagonally in the center that works well with f/2.8 and faster lenses.
It also carries most of the new innovations in the Canon EOS-400D like the Integration Cleaning System for the CMOS sensor and Picture Styles, which was also in the 30D. Taking from the Canon EOS-1D Mark III, the 40D also sports a 3–inch LCD with Live View Function, allowing for framing/shooting through the LCD.
This is certainly a revolutionary camera for die–hard Canon shooters, and DPReview provides us a preview of the Canon EOS-40D to give us the lowdown on this new model.