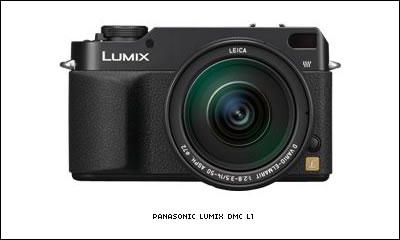 Several months ago, Panasonic announced the Lumix DMC-L1, their first interchangeable-lens digital SLR camera. This camera is a direct product of its partnership with Olympus and its Four Thirds System. The DMC-L1 is a unique digital SLR with an interesting feature set; it is the the first with a dedicated shutter speed dial and aperture ring. These makes it closer to the hearts of analog shooters from decades ago.
Michael Reichmann reviewed the Lumix DMC-L1 last August and somehow liked the camera. However, he criticizes it in some aspects considering Panasonic should've learned its lessons from the cameras it released before it, the Panasonic LX-1 and the Leica Digilux 2/Panasonic LC1. Of importance is the DMC-L1's value as compared to Nikon's D80 and Canon's EOS 400D/Rebel XTi, making it somehow lacking in many respects. No matter what unique features Panasonic may serve, it is still the market that will decide. Unfortunately for them, it will likely lean towards the D80, 400D/Rebel XTi, or Sony's Alpha A-100.
For a comprehensive rundown on the Panasonic Lumix DMC-L1, read the Luminous Landscape review as well as its feature page on DPReview and its own site.