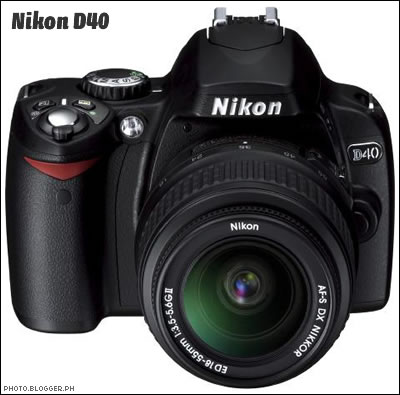 Just a few days ago, several photos were leaked on the web on what is supposed to be Nikon's latest digital SLR, the Nikon D40. This new camera is positioned to take the place of the budget D50, the lowest model on Nikon's DSLR lineup. Price is expected at around $499 for the body only, with the kit going for $599. The kit will include the G-II version of the 18-55mm which was featured in the D50.
The Nikon D40 has a 2.5 inch LCD that has been very common for all recent cameras. It will have the same 6.1 megapixel CCD from the D50 and an ISO range of 200 to 3200. Despite having just 3 AF points and lesser dedicated controls at the back of the camera, this should be a bestseller especially if it pops up at the rumored price. 500 dollars for a digital SLR body — times are good for us digital enthusiasts!
Compatibility with older Nikkor lenses (those not designated AF-S) is one of the D40's downsides, though this wouldn't be much of a limitation for first–time DSLR users, the target market of this camera. For the casual shooter just toying with the DSLR idea, the Nikon D40 should be a good match. But for those with a more serious plan and looking forward to more options in terms of accessories and lenses, the Nikon D80 should be of better value.
For a more thorough analysis of this new Nikon offering, Ken Rockwell's article on the Nikon D40 should prove to be very helpful. By the way, have you noticed that Nikon seems to be producing better cameras for the past few months? Somehow it feels like my Canon EOS D60 wants to pair up with a Nikon D80. ;) Though seriously, a two–system approach to camera gear is almost impossible unless you're a seasoned pro with a fat paycheck. And even professionals at the highest level rarely do a Canon + Nikon gear lineup. Just not possible, financially and especially emotionally. ;)