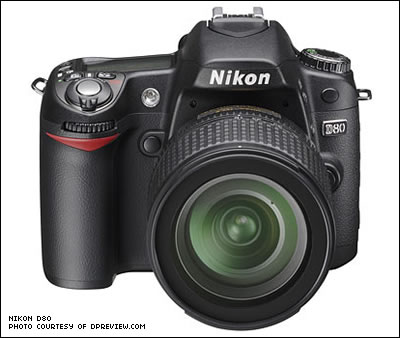 Nikon UK has just officially announced the new Nikon D80, the latest addition to Nikon's digital SLR lineup. This camera handily slots in between the D70s and the recently new D200, and should provide good competition in the DSLR market.
Highlights of this new Nikon body includes:
New 10.2 effective megapixel Nikon DX Format CCD image sensor delivering images at 3,872 x 2,592 maximum dimensions.
Refined 11–area AF system inherited from the top of the line D2 series.
Auto ISO which works very much like aperture and shutter priority, varying the sensor's sensitivity as needed. The effective ISO range is 100-1600, with extended settings labeled as HI-0.3, HI-0.7 and HI-1. ISO is adjustable in 1/3 EV steps, and several levels of noise reduction can be cofigured.
Startup time of 0.18 seconds is a direct attack on Canon's 0.2 or 0.15 value, all of which passable as "instant startup."
Creative in–camera effects like "D-Lighting" which is expected to mimic Picasa's "I'm feeling lucky" mode, or "auto contrast" and "auto levels" in Adobe Photoshop terms. Also available is red eye reduction and several filter effects.
A first for DSLRs is multiple exposures merged in one image file, another creative effect available only to the D80.
Like every new camera these days, a 2.5–inch rear LCD monitor offering a better view of everything. Examining sharpness and details through the LCD is now more plausible.
More details on this release is available from DPReview.com, and they have a detailed hands–on preview as well.