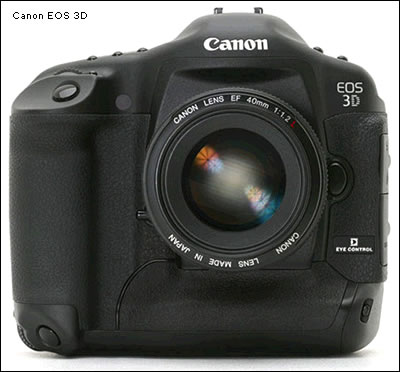 Pictured above is said to be Canon's upcoming EOS 3D, but really, is it? The same picture has circled the various photography sites and forums, and many have already ignored it as a hoax. However, a recent thread on the Fref Miranda forums appears to contain convincingly genuine details regarding a "Canon EOS 3D", said to be launched in around three weeks.
Rumored features appear very exciting and if true, this camera will indeed be a worthy competitor to the Nikon D200. Some of the highlights:
High performance AF system with 27 AF points, 11 of which are cross–type sensors up to f/4, with the center point cross–type up to f/5.6 and capable of AF up to f11. This performance is comparable or even better than the 1D series.
ECF: Eye–controlled focus. A unique feature carried over from the Elan 7NE.
13.3 megapixel APS-H (1.3x) sensor with DIGIC III, capable of ISO 50 and 3200 plus ISO 25 and 6400 as expanded options.
6 frames per second continuous shooting speed, up to 40 JPGs or 18 RAW files.
If this rumoured camera is indeed real, this should push down the prices of other models significantly. Maybe we can have a full–frame Canon EOS 5D breaking the 2000 dollar barrier along with a Canon EOS 30D for less than a grand. Good times are coming if this is true.
The text of the "supposedly leaked" Canon document is provided below:
Introducing the revolutionary EOS 3D.

Built from the ground up to represent the new face of digital imaging the EOS 3D will represent a breakthrough in high performance yet affordable photography. Featuring an elegant yet supremely functional design it takes the best of Canon's previous designs and enhances the experience even further. A high performance AF system featuring 27pt of which 11 are x-type down to f/4 while and the centre point is cross-type to f/5.6 and allows AF down to f/11. The AI servo performance has been significantly improved too, exceeding that of the 1D Mk II.

Also Canon proudly brings ECF to the digital era and is greatly enhanced in performance over that found in the Elan 7NE.

However, the true revolution lies in the heart of the camera. Packing an amazing 13.3MP into an APS-H sized sensor the images are processed by a new DIGIC III engine. The next generation DIGIC III Image Processor builds on the legendary abilities of the digic II with double the processing power necessary to deliver unprecedented levels of resolution, speed and dynamic range. Despite the EOS 3D having smaller pixels than the EOS 5D, the DIGIC III provides even greater DR, more accurate colour rendition improved WB and lower noise. ISO 50 and 3200 are now part of the standard ISO settings and ISO 25 and 6400 are now included as an expanded option. Also it further reduces power consumption allowing class leading battery performance.

Thanks to DIGIC III the EOS 3D also boasts an impressive burst rate of 6fps for 18 shots in RAW and 40 in jpg.

In addition the body adds several sealing gaskets to the all magnesium shell allowing for operation in more extreme environments. A new evaluative algorithm allows more accurate metering in extreme lighting and can even correctly expose subjects like snow. Also a 2.4% spot meter allows for precise metering of any part of the scene. The viewfinder shows an impressive 98% of the scene both horizontally and vertically. Also for the first time Canon will be employing 2.75″ OLED display screen, offering superior resolution, brightness and power consumption to LCD screens and having markedly better performance in bright daylight.
Visit this site for more updates on this new product.