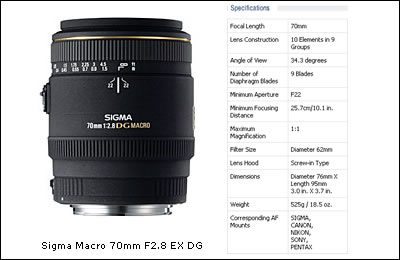 A few weeks ago, Sigma announced the Sigma Macro 70mm F2.8 EX DG, a dedicated macro lens suited for digital and film SLR bodies. Though announced for both digital and film, it is strategically placed as a replacement for 105mm macro lenses. When used with the latest Canon EOS 30D or the Nikon D200, the effective focal length is in the 105mm range, a commonly used focal length for macro photography.
This lens is designated as a Sigma EX, a label of quality reserved only for their best lenses. Contrast this with the Sigma 17-70mm f/2.8-4.5 DC Macro, which isn't marketed as such though performs just as good as the EX-designated Sigma 18-50mm F2.8 EX DC, with extra range to boot.
A unique feature of this lens is a "Focus Limiter Switch" which is used to limit the focusing range, improving AF speed and accuracy.
This new entry from Sigma is interesting in that it addresses specific needs that many longtime film shooters have gotten used to. They now have lenses providing digital equivalents of the 28-70, the 16-35, and now the 70mm macro. I'm left thinking, will they be producing a 70-200 f/2.8 equivalent for digital SLRs? And will the 70mm f/2.8 macro be good enough for macro photography enthusiasts?