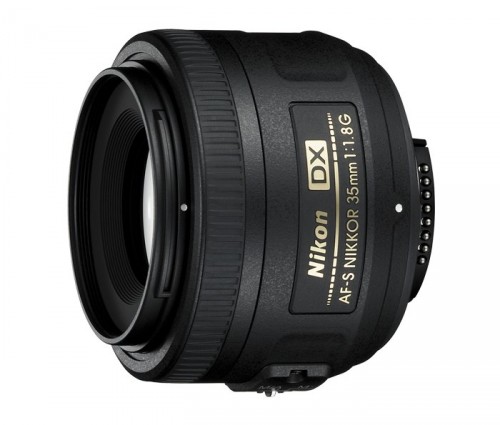 Finally, a camera maker does the right thing they should've done a long time ago. Nikon has just announced a DX lens that will surely be the new favorite normal lens for everyday DX shooters — the AF-S DX Nikkor 35mm f/1.8G.
Set at USD $199, though not exactly cheap, is a reasonable price for a fast aperture lens that provides a field of view close to the traditional 50mm normal lens. With not much alternatives, Nikon may be poised to sell this like pancakes. Based on recent cheap Nikon lenses like their kit offerings, the 35mm DX should be a decent performer good enough for most photographers.
I can't help but wonder if Canon would do the same, because they should.
NIKON INTRODUCES THE FASTEST DX-FORMAT LENS TO DATE: THE AF-S DX NIKKOR 35MM f/1.8G

MELVILLE, N.Y. (Feb. 8, 2009) – Nikon Inc. today announced the AF-S DX NIKKOR 35mm f/1.8G lens, which is the first fixed focal length, fast-aperture DX-format lens that affords photographers superb image quality along with the creative possibilities and versatility of the classic 50mm focal length (FX-format equivalent of 52mm). When mounted on a DX-format camera body, it enables photographers to document their world with a lens that produces a picture angle similar to the field of vision as seen through the human eye. Whether new to D-SLRs or a seasoned enthusiast, users will appreciate the extreme low-light performance and the expanded ability to dramatically separate the subject and background with the new 35mm DX lens' wide f/1.8 aperture.

"The development and release of the 35mm f/1.8 NIKKOR lens delivers new and added versatility to the Nikon DX-format digital SLR system and provides DX-format photographers with a broader range of fast-aperture lens options," said Edward Fasano, general manager for marketing, SLR Systems Products at Nikon Inc. "This f/1.8 prime lens provides users with exceptional control of background and foreground, superb low-light ability, and the natural focal length that has been the staple of photography since its inception."

Lightweight, compact and affordable, this lens can easily become a fast favorite for any level of photographer, and is the perfect complement to D60 users who are just starting to learn D-SLR photography or enthusiasts who love their D90. The AF-S DX NIKKOR 35mm f/1.8G lens is ideal for travel, general photography, landscape shooting, portraiture or pushing creative boundaries. The stunning sharpness, clarity and color reproduction are all proof positive of more than 75 years of NIKKOR heritage and experience in optics engineering.

This lens continues the tradition of NIKKOR precision optics to provide photographers with sharp, high-resolution images and the ability to focus as close as 0.98 feet, while the integration of an ultra-compact Silent Wave Motor ensures fast, whisper-quiet AF operation.

The 35mm DX lens construction consists of eight elements in three groups, with an aspherical element to reduce size and weight, while contributing to the enhanced balance when mounted on a smaller DX-format D-SLR. A rounded diaphragm opening combined with the nine-blade aperture contributes to a substantially more circular bokeh for a more natural appearance of out-of-focus background elements. Additionally, instances of lens flare and chromatic aberration are suppressed using Nikon's exclusive Super Integrated Coatings, which also help ensure vividly accurate color balance.

The AF-S NIKKOR 35mm f/1.8G lens is scheduled to be available at Nikon authorized dealers beginning March 2009 at an estimated selling price of $199.95.* For more information, please visit www.nikonusa.com.

About the NIKKOR brand
With a full family of FX and DX-format lenses and focal lengths, from the ultra-wide 10.5mm fisheye to the super-telephoto 600mm VR, NIKKOR customers have come to rely upon Nikon's optical superiority and the support of NIKKOR core technologies, of which the new 35mm DX lens is a prime example. NIKKOR is the brand name for Nikon's photographic lenses, which was created by adding an "R" to "NIKKO", an abbreviation of Nippon Kogaku K.K., the original company name of Nikon Corporation at the time of its founding. In 1933, Nikon marketed its first camera lens under the NIKKOR brand name, the "Aero-NIKKOR" for aerial photography applications. Since then, NIKKOR has been used as a brand name for Nikon's lenses that symbolizes durability, high image quality and optical excellence.

About Nikon
Nikon, At the Heart of the Image™. Nikon Inc. is the world leader in digital imaging, precision optics and photo imaging technology and is globally recognized for setting new standards in product design and performance for its award-winning consumer and professional photographic equipment. Nikon Inc. distributes consumer and professional digital SLR cameras, NIKKOR optics, Speedlights and system accessories; Nikon COOLPIX® compact digital cameras; COOLSCAN® digital film scanners; 35mm film SLR cameras; Nikon software products and Nikon sports and recreational optics. For the second consecutive year, Nikon D Series digital SLR cameras are recognized as "Highest in Customer Satisfaction with digital SLR cameras, Two Years in a Row, Tied in 2008." according to the J.D. Power and Associates 2007 and 2008 Digital Camera Usage and Satisfaction StudiesSM. Nikon Corporation, the parent company of Nikon Inc., recently celebrated its 75th anniversary of NIKKOR optics and announced the production of over 45 million NIKKOR SLR interchangeable lenses. For more information, dial (800) NIKON-UX or visit http://www.nikonusa.com, which links all levels of photographers to the Web's most comprehensive photo learning and sharing communities.
# # #

*Estimated selling price listed is only an estimate. Actual prices are set by dealers and are subject to change at any time.
For J.D. Power and Associates award information, go to jdpower.com