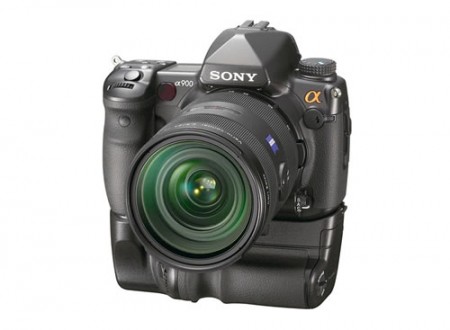 Now the digital SLR market is getting undoubtedly interesting. The recent announcement of a DSLR that can do high–definition videos in the Nikon D90 got everyone listening, and now we have the first full–frame camera for the Sony Alpha system, the Sony Alpha 900. This provides a full–frame option for Minolta/Konica–Minolta shooters as well as those betting on the Sony Alpha DSLR system. Not that I think there are many of those, but having a third full–frame capable system puts pressure on the rest of the market, surely making cheap full–frame DSLR cameras a reality in the next few years.
Sony's venture into full–frame would make Canon and Nikon think twice about their products, making it no longer simply a technogical race, but also a price–driven battle. And since we know that Sony also sells their sensors to other manufacturers, it wouldn't be far–fetched to see Pentax and Samsung with full–frame digital SLR cameras in the next few months.
And as if it matters in a big way, here's the specs for the Sony Alpha 900:
24.6 MP 35mm format full-frame CMOS sensor (highest res in class)
SteadyShot INSIDE full frame image sensor shift stabilization (world first)
High Speed Dual Bionz processors
Eye-level glass Penta-prism OVF, 100% coverage, 0.74x magnification
9 point AF with 10 assist points, center dual-cross AF w/2.8 sensor
5 frames per second burst, newly developed mirror box
Intelligent Preview Function
3 User programmable custom memory modes on mode dial
Advanced Dynamic Range Optimizer (5 step selectable)
40 segment honeycomb metering
3.0″ 921K pixel Photo Quality (270 dpi) LCD display, 100% coverage
Direct HDMI output
ISO 200-3200 (ISO 100-6400 expanded range)
User interchangeable focusing screens (3 options)
CF Type I/II and MS slots, LI-ION battery, STAMINA 880 shots
Weight 850g (without battery, card, accs)
New Image Data Converter SR software (includes vignetting control)
New Vertical Grip
Supplied with wireless remote control
Magnesium Alloy body and rubber seals for dust and moisture resistance
AF micro adjustment
$2999.99 body price; available late October 2008
As always, DPReview gets the first stab on this camera with their preview of the Sony Alpha 900.