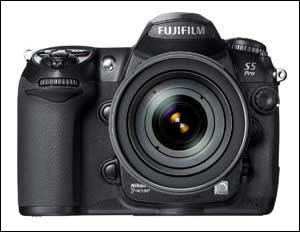 FUJIFILM U.S.A., Inc. has recently announced their latest digital SLR, the Finepix S5 Pro. This camera is especially aimed at wedding, portrait, and studio photographers with features specifically useful to the said type of photography. Developed since Photokina 2006, this new Nikon–based body is scheduled to hit the market in February 2007 with a retail price of $1,999.
Further enhancements in Fujifilm's sensor technology makes this camera a tough contender, especially when it comes to color and image quality. The PR states:
One is an expanded dynamic range from the double pixel technology (6.17 million S-pixels and 6.17 million R-pixels) of the camera's Super CCD SR Pro sensor that is approximately 400% wider than that of a CCD working on a single-pixel design. In addition, the FinePix S5 Pro goes a step further by coupling the new Super CCD SR Pro sensor with Fujifilm's new RP Processor Pro for smoother tonality from brightest light to the darkest shadows. An ISO equivalent sensitivity of 3200 is also available on the FinePix S5 Pro, thanks to the RP Processor Pro technology.
Face detection technology is another feature for this new camera. This feature is now steadily making it to consumer compact digitals though not in digital SLRs; perhaps the Finepix S5 Pro is one of the first bodies to sport this consumer–friendly technology.
Fujifilm's article on this product release also boasts of improvements in ergonomics, weather sealing, and a 100,000–cycle shutter mechanism. Familiar? Of course, I think the Finepix S5 Pro is essentially a Nikon D200 fitted with Fujifilm's imaging sensor and electronics. Just like previous incarnations of Fujifilm's S-series professional bodies. This camera will likely be a favorite of portrait photographers if Fujifilm manages to improve on their already good color and image rendition. Reportedly however, just like the models before it, the Finepix S5 Pro is rumored to have the same sluggish performance that may be a little slower compared to today's digital SLRs, even against the entry–level offerings from Sony, Nikon, and Canon. Will the Finepix S5 Pro make significant strides into the digital SLR market? We should see in the next few months, though I wouldn't be expecting much.