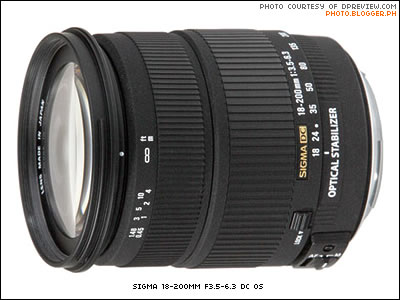 Sigma has just announced the new Sigma 18-200mm F3.5-6.3 DC OS, similar to its previous 18-200 offering but now with its optical stabilization technology, simply dubbed as "OS". Quite obviously, this lens is just a refresh of the 18-200mm F3.5-6.3 DC it had for some time now. This move is definitely targetted at Nikon's relatively new wonder lens, the AF-S DX VR Zoom-Nikkor 18-200mm f/3.5-5.6G IF-ED released almost one year ago.
The addition of optical stabilization surely makes the 18-200mm all–in–one combos seem useful now, making it the APS-C equivalent of the 28-300mm of which Canon has an L version. Considering that the digital SLR market is now opening up to snapshot hobbyists as a result of ever–cheaper prosumer models, long zooms will certainly appeal to a percentage of shooters longing for a single lens solution.
Nikon's 18-200 VR is one good lens since it has been known to be sharp throughout its range, making both ends of zoom range very usable. The addition of Nikon's VR technology made it very usable even at maximum telephoto. Ken Rockwell raves about his 18-200 in his review, and Thom Hogan seems very happy with it as well. The big question: will the Sigma 18-200 OS be anywhere close to the Nikon 18-200 VR? If it rates at 80% of the Nikon, the Sigma will sell. Of course that's assuming their OS technology is as good as Nikon's VR or Canon's IS.
For more details on the lens, DPReview has coverage just as the Sigma website. For comparison, here's DPReview's page for the Nikon 18-200 VR.