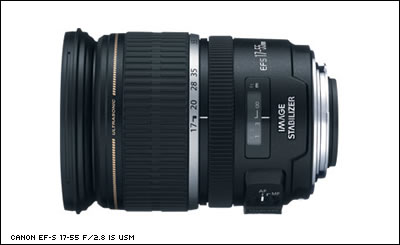 You would've noticed that I've been writing a lot about the better lenses in the 17-50 range, which translates to 28-105, probably the most used range in the 35mm format. After Nikon's 17-55 f/2.8 AF-S, Sigma was the first to produce a similar lens, at a remarkable value. The Sigma 18-50mm F2.8 EX DC has basically captured that market, considering none of the other camera makers rushed to produce an excellent f/2.8 lens in the given range.
This year, the battle in this range will be getting fiercier as Tamron has announced the SP AF17-50MM F/2.8 XR Di II LD Aspherical IF based on their best–selling SP AF28-75MM F/2.8 XR Di LD Aspherical (IF) which has managed to capture those who have long been dreaming of Canon and Nikon's 24/28-70 f/2.8 lenses.
Canon's EF-S 17-55 f/2.8 IS USM is a welcome addition in this battle of walkaround zooms, a lens expected to take a significant chunk of the market. Unfortunately, the addition of IS has pushed this lens in the 1,100 USD range, more than twice the Sigma and the Tamron. Everyone is expecting top–notch quality and performance, but at this price, the cost may be unreachable to many first–time DSLR shooters.
My verdict: a very good lens though at a steep price. There are cheaper alternatives that may provide better value and just as capable of delivering excellent photos. Before you buy, make sure you also consider the Tamron SP AF17-50MM F/2.8 XR Di II LD Aspherical IF, the Sigma 18-50mm F2.8 EX DC, and even the Sigma 17-70mm f/2.8-4.5 DC Macro which I'm still eagerly waiting for.