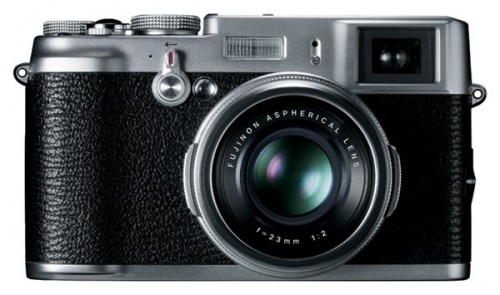 Yes, what you're seeing is a new digital camera. It is not from 20 or 30 years ago. In fact, it is not yet in production and will not sell until March 2011.
It is the Fujifilm FinePix X100, perhaps the best camera Fuji has tried to produce in the past few years. Equipped with a 12.3–megapixel APS–C sensor, image should be as good, if not better, than cropped–frame digital SLRs you can buy now. The lens is 23mm f/2 Fujinon that would effectively be a 35mm fast prime, a good mate for this camera since it will not be removable.
ISO range will be from 200 to 6400
5 fps continuous shooting
720p HD video
2.8 inch LCD
The X100 shoots in full manual or aperture priority, with the aperture adjustable through a proper aperture ring in the lens itself! Old school shooters will be very pleased indeed. I can fully understand the appeal having been shooting with the LX3 for almost two years now. But at 1,000 USD, that's twice the money I paid for the LX3, or the current LX5. It's even more than you'd pay for a more usable Canon or Nikon entry–level digital SLR. If Fuji cuts the price to a reasonable level, I wouldn't be surprised if this becomes everyone's must–have compact shooter.
For more details, Engadget had a brief hands–on with the X100 at Photokina.