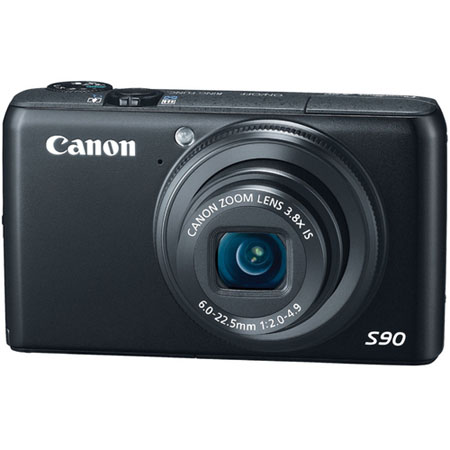 Most likely sharing a lot with the recently announced Canon PowerShot G11, the Canon PowerShot S90 marks the return of Canon's S-series compact cameras. Here are the highlights of the S90, many of which are also in the G11:
10 megapixel high sensitivity CCD sensor
Dual Anti–Noise System
DIGIC 4
f/2.0 wide aperture lens (@ widest 28mm setting)
Lens Control Ring
Up to ISO 3200 and 12800 using the 2.5MP Low Light mode
Discrete zoom stops at 28mm, 35mm, 50mm, 85mm, 105mm
It is quite obvious that the S90 is positioned to compete with serious amateur compacts like the Lumix LX3 and Ricoh GR Digital III. The introduction of f/2.0 at the wide end is very much like the LX3, though the focal length is a tad narrower at 28mm. The discrete zoom stops is a feature from Ricoh's GX–series like the GX200, making the S90 an obvious contender in this market. Note that the 10 megapixel sensor is a downgrade from Canon's recent models that already hit 14 megapixel a generation ago. I'm almost sure this change is more of an image quality consideration.
At 429 USD it is not that far from the G11's price range and I'm sure these two models will somehow take away sales from each other. Collectively, it would be interesting to know if they can actually compare to what is presently available and upcoming in this growing advanced enthusiast market.