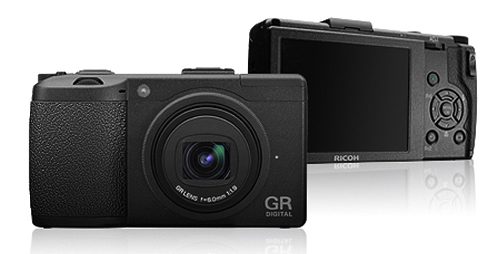 After months and months of rumors on the update to Ricoh's GR Digital series, the Ricoh GR Digital III is finally here. One of the notable details floated around was indeed correct: the new fast–aperture 28mm f/1.9 GR lens.
Here's the list of highlights for the GR III:
28 mm/F1.9 GR Lens
GR Engine III
10 megapixel high-sensitivity CCD and AFE
Pixel output interpolation algorithm
Multi-pattern auto white balance
Fast AF even in low-light situations
Full Press Snap
Pre-AF mode
Continuous shooting and high write speed
AE/AF target shift
Extensive exposure modes (Shutter speed priority AE newly added)
New macro mode system controls field curvature
Dynamic range double shot (In–camera HDR!)
Aspect ratio 1:1 square format mode
Flash synchro setting
Manual flash amount setting
Three types of bracketing
Magnesium body for superior reliability
The GR Digital III is certainly better than the GR II. Unfortunately, there are curious omissions like HD movie recording—it still records in 640×480 pixels! Compared to the Panasonic Lumix LX3, it's a close battle with the LX3 taking the lead in movie recording and lens performance, at least on paper. More importantly, the GR III is priced above USD $500, making it more expensive than its direct competitors. Unless Ricoh lowers its price, the GR III might just be the same as its GR and GX siblings—good cameras that could've sold more.