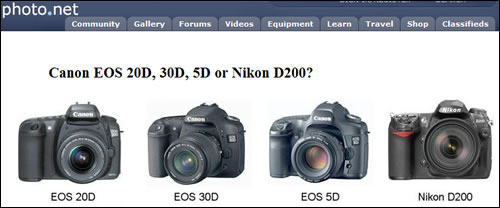 Bob Atkins compares the 20D, 30D, 5D, and D200 against each other, evaluating the current crop of mainstream DSLRs. I share his opinion that neither Canon nor Nikon shooters will be jumping to the other side based on these bodies, at least not yet. The decision on which camera to choose will be limited by the current equipment they have.
It is likely a different scenario for first–time DSLR buyers though, and some may base their decision on what provides them better value. If I were to make such a decision, Canon has an advantage in the field of product development, as they have shown these past years. Nikon continues to improve, though noticeably much slower than Canon's phase.
Taking the Canon camp as a first–timer, it is basically a question of how much you can afford. If you have $3000 USD, then the 5D is a no–brainer. If you've got less, the 30D should serve you well, and if you're still on a tight leash, the last stocks of the 20D will still be a very good camera.