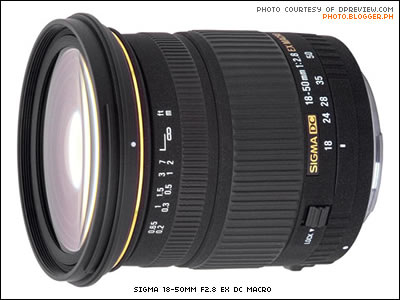 Around two weeks ago in Photokina 2006, Sigma announced the Sigma 18-50 mm F2.8 EX DC Macro which appears to be an updated version of its original Sigma 18-50mm F2.8 EX DC from more than a year ago.
This new lens now has the "macro" designation, with an increase in filter size from 67mm to 72mm. This change resulted in a minimum focusing distance of 20cm/7.9in, very similar to that of the popular Sigma 17-70mm f/2.8-4.5 DC Macro that has been selling for several months now. I really think that this new lens is a hybrid of the older 18-50 and the new 17-70, combining the better attributes of these two good lenses.
I just got the Sigma 17-70 a few months ago but this new lens has me thinking again, though I don't think I'm buying it soon. If you have the older Sigma 18-50 F2.8 or the Sigma 17-70, buying this one doesn't make much sense unless you need both the F2.8 max aperture and the macro focusing. Now imagine this: what if Sigma combined all the best qualities of the lenses mentioned above without compromises, like a 17-70 F2.8 with macro and optical stabilization to boot? I know I'd be in line for them right away. Let's hope the OS technology from the newly announced 18-200 OS dwindles down to their other lenses, as well as their progress in making consumer zooms with constant F2.8 max aperture at relatively cheap prices.